Monitor your hosting traffic
Jump to navigation
Jump to search
Each hosting package has a monthly traffic allowance, which determines the amount of data that your domain can transfer to and from our servers. Hosting traffic is used when users visit your website, when you update your site, and when you send and receive emails using our servers. Exceeding your hosting allowance will not affect your hosted services; you will simply be billed a surcharge of R0.19 per 1MB additional traffic. It is therefore often more cost-effective to upgrade your hosting package if you exceed your monthly allowance.

Each hosting package also has a specific storage space limit. If you reach your storage limit, you will no longer be able to uload new content to your hosting package until you have removed old files. You do of course of have the option of upgrading your hosting package at any time, to increase the storage available. Stored emails do not contribute to hosting storage used.
Check your usage
Log into http://my.imaginet.co.za/ and click on Hosting and Domains in the menu on the left (Fig. 1).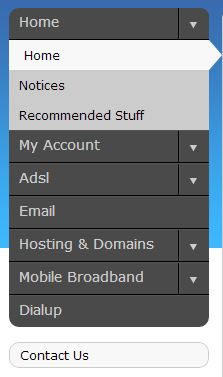 Your domain names will be listed alphabetically. Scroll to the domain you wish to check, and click Controls. You will be shown graphs for that domain's Traffic and storage usage for the current month:






For more detailed stats, click on the Usage button to see usage by month:




Bear in mind that emails can contribute to your hosting usage. If you click any of the monthly graphs you will be shown which email addresses contributed to the traffic during that month.