Modify your hosting services
Jump to navigation
Jump to search
Hosting services can be upgraded, downgraded, or scheduled to terminate, via MyDot. Log into http://my.imaginet.co.za/ and click on Hosting & Domains in the menu on the left (Fig. 1).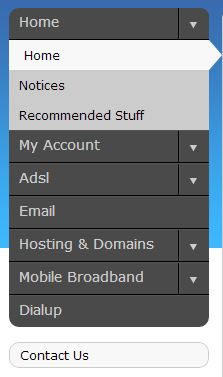 Domains will be listed alphabetically. Scroll to the domain you wish to modify and click Controls and then Edit.
Next to Schedule Event, click Edit.
Select the event you wish to schedule: Upgrade, Downgrade, or Terminate.

Upgrading
When Upgrading a package, the available upgrades will be listed in a new dropdown. You will be able to upgrade immediately, or schedule the upgrade for month-end.
Immediate upgrades will be billed for with your next invoice. You will be billed the difference between the price of your new service and the price of your old service.
Immediate upgrades are effective right away, but your reported hosting stats will only update at midnight.

Downgrading
When Downgrading a package, the available downgrades will be listed in a new dropdown. Downgrades can only be scheduled for month-end.
You will be billed the new price as of next month.

Terminating
Packages can be scheduled to Terminate at month end. You will not be billed for your hosting package again, unless you exceed your traffic allowance. In that case, you will only be billed for excess traffic.